Back To Our Services
We know you don't compromise on the quality when buying garage doors so that it does not create problems. But the aging effect is also just something natural and can't be denied. It surely is going to cause wear and tear on the garage door after sometime and the parts of your garage door including springs, rollers, tracks, hinges, pulleys etc would require maintenance now and then. Use of the garage doors for considerable period of time makes the hardware or various parts start developing faults which must be attended to at their very initial stages so that they don't get worse. This is the time when your garage door needs to be checked by some expert technician who can find out the problem and can suggest solving it on time.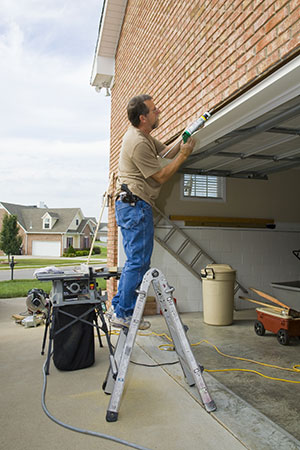 Everyone should have at least minimum required knowledge of the garage door's working so that they are able to rectify minor issues by themselves at home. However, we still recommend calling some professional to assist you with your garage door issues because most of the problems related to the garage doors are not do it yourself sort of jobs as someone may get injured during the process. However, this basic knowledge about the garage doors is required to help you to understand when is the time you need to call in a technician to get your door examined.
Garage door parts like springs, hinges, brackets, rollers and pulleys are made of such material that can get dry thus producing friction. Such parts need to be greased regularly. For this purpose, our Garage Door maintenance/ adjustment and lubrication department in Mill Creek provides many types of quality lubricants. These lubricants make the parts greasy to avoid friction between them. If you don't get it done on regular basis the joints of these parts would get dried up resulting in frequent breakages due to the friction effects.
When you call our technicians they check the every tiny bit of details due to which the problem has occurred. The tracks of your garage door should maintain an equal level on both sides of door to stand it straight, the spring should be balanced and adjusted strongly so that they don't get loose due to daily usage. The pressure created due to garage door opener on door springs should be adjusted so that the spring don't get extra pressure that is above than the threshold level set for springs. When you open your garage door and if it feels heavy; means there is some problem in the hardware and other installations of garage door apparatus. The experts of our company in Mill Creek provide you with the best advice and instant solution for your garage door maintenance issues.
We are running our business in Mill Creek since many years now
In addition to the maintenance and lubrication of garage doors we also deal in adjusting garage doors. We have the most sophisticated machines available with us for the adjustment of garage doors because we exactly know that a slight mistake can cause the garage door function improperly.
We are a Garage Door Maintenance/Adjustment and lubrication company in Mill Creek; a name synonymous to quality and exceptional services that help enhancing life of your garage door.
We also have discount packages for our regular customer to get the maintenance services.
You can see the customer's feedback on our website. You can also get yourself register on our website.
Back To Our Services